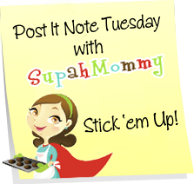 I have a confession: I am an organizational freak.
Right now, there are probably three different kinds of Post It Notes in my purse, along with a small army of pens and Sharpies.
I guess that's a good trait in a yearbook rep. I never leave home without a Sharpie.
So when I stumbled upon Post It Note Tuesday over at SupahMommy's
blog
, I knew I had to join in.
She links to a site where you can create your own digital Post It Notes. Awesome.
And just because I can't help my graphic design/yearbook nerd nature, I had to put my Post It Notes on a cork board with push pins.
You know you love me anyway.
So, without further adieu, my first Post It Note Tuesday:
Don't ya just love that grocery list?
Any guesses on what I'm cooking up this weekend with that Bailey's Irish Cream?
Happy Tuesday!
br>