I have a thing for blog carnivals this week. I guess it's because it gives me something fun to post about without having to think too hard, haha!
Anyway, this week's Wishful Wednesday topic is:
'I wish' …. I could wear/could have worn _____ dress on my wedding day!
Well, I'm going to be kind of boring here….. I *loved* my
wedding dress
. Loved it. I wouldn't wish for something different — it was perfect for me!
I remember the day I found it — I was with my mom and as soon as I put on this dress, I just knew. I know that sounds really cliche, but I really did have this just wonderful feeling. I started crying, and she did too. It was a wonderful day!
Here's the full-length view from my bridal portraits. The beading is so beautiful, and I love all of the lace. I especially love the small train at the back! Squeeee!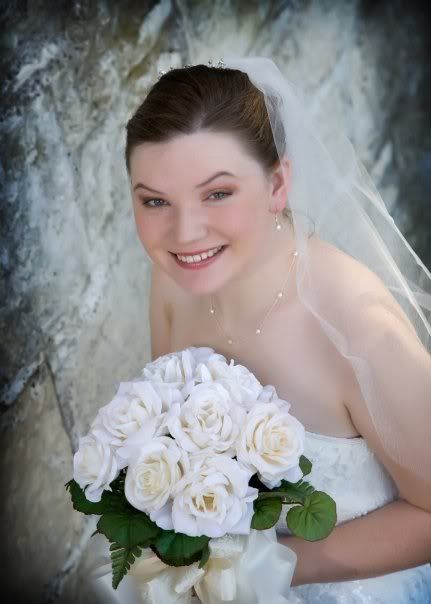 This is my favorite bridal portrait — you can't really see the dress, but I couldn't resist posting it!
My favorite thing about this dress? It's not trendy. I think it's very classic and timeless. I could see passing it down to my daughter to use for her wedding day. Even if it's just a piece, like Tess did in
27 Dresses
.

So, how about you? What wedding gown would you love to wear? Head over to Kelsey's
blog
to see what everyone else lists!
Happy Wednesday!
br>